Capitalizing on What We Have Built to
Become a Truly Global Company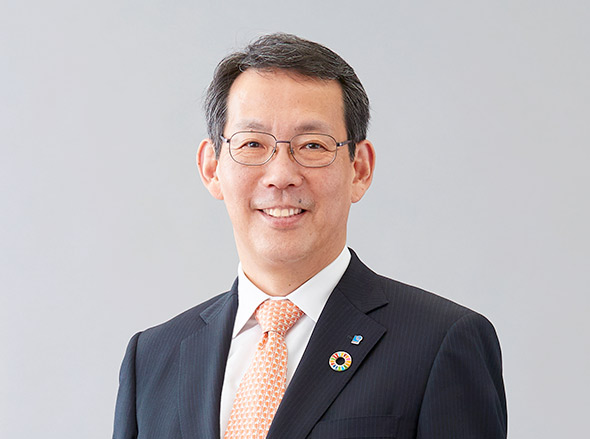 Establishing our philosophical framework: A clearer and more memorable expression of our core convictions
In January 2019 we announced the NGK Group Philosophy as our revised philosophical framework. Our mission is "Enriching Human Life by Adding New Value to Society," and we seek to achieve this by focusing on the values we have set for ourselves with regard to quality of people, quality of products, and quality of management.
In revising the philosophical framework, we sought to ensure, through the words we chose, that our philosophy is both memorable and easily grasped. The NGK Group is committed to preserving the global environment, fostering the development of industry, creating a brighter energy future, and contributing to the wellbeing and happiness of people around the world. It is this longstanding desire to be such a company through the products and services that we offer which we have encapsulated within a clearer and more memorable corporate philosophy.
We also sought to ensure that our corporate philosophy is expressed in a way that can be shared by everyone in the NGK Group. There are approximately 20,000 employees in 20 countries around the world who make up the NGK Group. As our business has diversified and expanded globally, the employee makeup of the NGK Group has been changing significantly. In order for there to be mutual respect and group cohesion from which our best performance can be attained, it is important that everyone in the Group is committed to the common mission and share the same values. Thus, we have chosen simple and concise wording that resonates universally and is accessible among all NGK Group members who have different cultures and languages.
This new expression of our corporate philosophy is a core around which the NGK Group can come together to not only further refine our ceramics technologies but also to revisit our founding principles as we keep working to improve the quality of the products that we provide and the work that we perform in pursuit of our corporate mission.
Corporate culture reform: Facilitating essential work performance
The NGK Group needs to do better on a variety of different fronts. Regrettably, since the start of my tenure as president, the NGK Group was found in 2015 to have engaged in an anti-trust laws violation issue and, in 2018, to have caused the non-conformity in testing procedure of insulators and related products. These problems stem from a longstanding and lingering lack of frank communication.
In order to try and effect a fundamental cultural shift in this regard, I have increased the number of visits I make to our many different workplaces. So far I have averaged around 70 workplace visits per year. During my visits I make myself available to employees so that they can tell me about any problems or concerns they may have, or about any ideas they may have for improvements. Recently, my efforts are being rewarded as more and more employees share their thoughts with me and talk about what initiatives they are undertaking.
One department, which is 70% female, has created a workplace built based upon the needs of women and ensuring a healthy work-life balance. In one of the product engineering departments, where the busy pace of work is almost constant, a series of small improvements and novel rules have been introduced, which ensure employees are actually able to get time off.
These examples are the results of an invigoration of corporate culture within the NGK Group that has been occurring in the wake of personnel system reforms implemented in 2017. This innovation in corporate culture is taking place alongside ongoing and persistent communication efforts aimed at encouraging employees to focus on what is essential in their work and have the courage to abandon what is not. In fact, just by talking with employees, I increasingly get the sense that attitudes are changing.
However, in order to ensure the continued momentum of these sorts of initiatives, the attitudes of those at the management level need to change so that they can lead by example. Ten senior executives, including executive vice presidents, have announced changes they are making in their department and have followed up on the status of implementation. We call these initiatives "quality management," and by ensuring their thorough, company-wide implementation we seek to alter the corporate culture in ways that will facilitate an improvement in the quality of work we perform.
Towards the next hundred years: Charting our path for the decade to come and beyond
We see our current blueprint for NGK up through 2030 as being realistic. In the areas of automobiles, semiconductors, batteries, and much more, our existing derivative technologies have a variety of potential applications that will keep current growth trends going.
However, with regard to questions of social structure and humanity's needs from 2030 onward, more study is needed. Global demographics are inexorably changing, and it will not be long until the central loci of growth shift to Asia and Africa. How will these changes affect spending consumption, and what is required to adapt to them? What will already well-established developed countries need in this changing world? Extrapolating backward from these predictions, what do we need to be doing now in order to prepare? We should be devoting our creativity and time to considering these questions.
Moreover, the fate of humanity depends on whether we can reduce CO2. Surely this is a challenge that the entire world needs to come together to address. In this sense, it is a challenge that presents us with business opportunities. For example, in order to meet the ever-growing need for renewable energy, storage batteries such as our NAS batteries capable of large-scale and long-term power discharge are indispensable.
Reflecting upon the situation in the NGK Group reveals that we, too, need to invest more time and resources on achieving better thermal efficiency, cutting energy consumption, and reducing emissions connected with our use of kilns to fire ceramics. In the mind of the public, having a focus on ESG is taken as a given, and there has been a pronounced trend among investors as well to choose companies that emphasize ESG. Discussion of how best to incorporate ESG into corporate policies is ongoing.
In January of each year, I announce to the company my key kanji character for that year, but this year I have forgone a single kanji in favor of a key phrase: "Never forget the first resolution." When I reflect on past incidents such as the non-conformity in testing procedure of insulators and the related products, I wonder if they were due in some degree to arrogance on our part. Such an attitude is out of alignment with the founding spirit of our first president, Kazuchika Okura, who declared, "We do this to serve our country, and not for our own profit." This is the sentiment I wanted to convey with this year's key phrase.
I want all of our employees to think once more about why companies exist. A company's survival depends upon its ability to operate within the rules of society in such a way that a relationship of trust is established. On the occasion of our 100th anniversary, I want that thought to be the starting point of our new journey.
We have cultivated a great many seeds that can grow into future business. If we sow them with confidence, I believe they will reward us with results. Our preparations for the next five to ten years are largely in place. And it is my hope that we will look to the future beyond that and make use of this year as a fresh start.
NGK Insulators, Ltd.
President