Contributing to society by creating new value has consistently been a part of our DNA since our founding.
We seek sustainable growth through the creation of new products and new businesses that satisfy the needs of the era.
Our Unchanging DNA
Ever since our founding, NGK INSULATORS has been supporting the foundation of society by developing and providing products that are useful for solving various problems.
Even though the times change, the mindset of taking on the challenge to create new value and continue contributing to society is something passed down to us unchanged.
Creating New Products and New Businesses
The NGK Group established a company-wide objective of increasing the proportion of new products among overall sales to 30% under the name "2017 Challenge 30," and we achieved this objective in FY2017.
We have established a new objective to maintain this 30% proportion of new products among our overall sales going forward, called "Keep Up 30," as we strive to continue to create new products and businesses.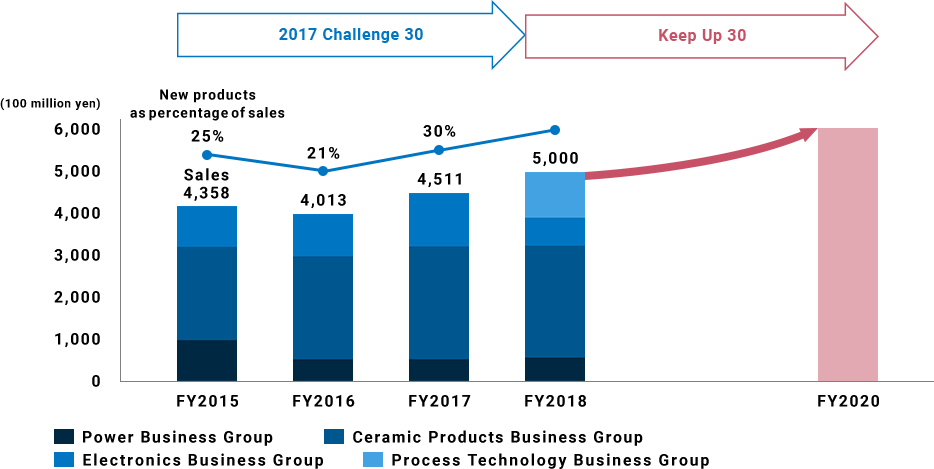 Anticipated New Products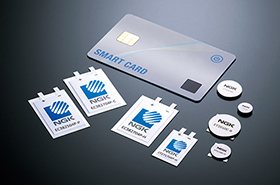 EnerCera Series
Chip-type ceramic secondary battery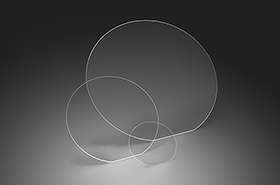 FGAN GaN wafers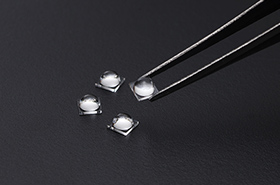 Micro-lens for UV LED lights
We aim to grow even further through diverse proprietary technologies and the personnel responsible for them.
Our Core Technologies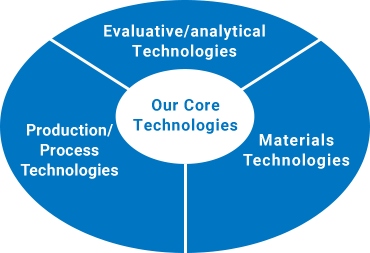 Manufacturing ceramic products is like a puzzle solving innumerable combinations of mixing, molding, and firing.
Since its founding, the NGK Group has developed proprietary core technologies by combining traditional ceramic technology with the latest science and technology, as we have sought out the optimal manufacturing conditions for each product.
The core technologies and manufacturing expertise that we've accumulated over the past 100 years are the source of the NGK Group's competitiveness.
Materials Technologies
Our ability to manipulate materials in any way we desire allows us to manufacture products that meet the needs of our customers — for example, by combining different materials to reveal exceptional properties, and by controlling such factors as ceramic pore diameter (pore size), crystal orientation, thermal conductivity, and electrical resistance.
Pore diameter: 10 micrometers and smaller

Particulate matter filter

Pore diameter: 100 nanometers and smaller

Fine filtration membrane

Pore diameter: 1 nanometer and smaller

Subnano-ceramic membrane
Ceramic filters that purposely separate solids, fluids and gases by controlling pore size
Production/ Process Technologies
Many of our innovative, highly competitive products are created using production equipment developed by our own company using proprietary mass production technologies and our own manufacturing expertise. We have deployed cutting-edge production lines to our overseas facilities, meeting the needs of customers worldwide by building a globally optimized production system. NGK develops and manufactures its own products by harnessing a variety of process technologies; forming technologies that include proprietary mold casting and extrusion molding, firing technologies that provide rigid control over the firing temperature and time, including dissimilar material bonding technologies for bonding metals and other dissimilar materials to ceramics, and machining technologies that achieve finely detailed, complex three-dimensional shapes.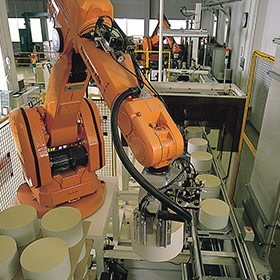 Improving Productivity Through Innovative Mass Production Processes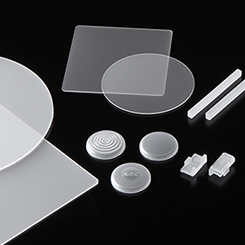 Mold casting enables the creation of complex shapes with high levels of precision.
Evaluative/Analytical Technologies
We are bringing innovation to manufacturing by being early adopters of advanced technology, such as computer simulation technology that can greatly reduce development time and image analysis systems that can detect even the slightest flaw, and by merging these technologies with NGK's own core technologies.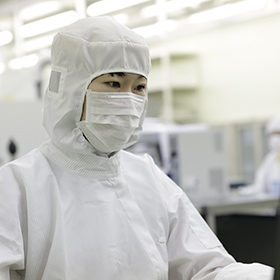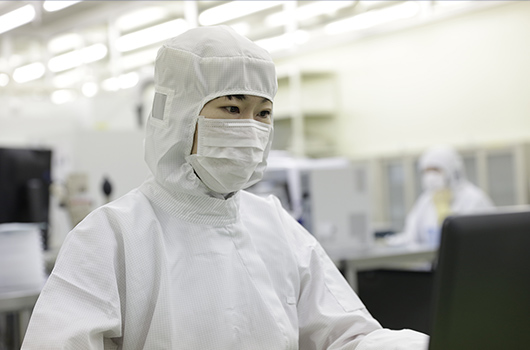 R&D and Manufacturing Driven by Excellent Evaluative/Analytical Technologies
The Human Resources Driving Our Manufacturing
In our rapidly changing society, we need employees who will compete at a higher level in order for our company to beat the competition and achieve sustainable growth and development.
At NGK, we have introduced various systems with the aim of creating a company where each and every employee can have job satisfaction, and we have pushed forward with work style reform.
Revamped Human Resources System
We revamped our human resource system for general office workers in 2017 to enable all employees, from our youngest to our most veteran, to gain job satisfaction from their work. We have also modified our work environment to raise the enthusiasm of our youth and core workers, who bear an important role in our global business development, in order to allow them to sufficiently exercise their capabilities.
Developing a framework that allows all employees to work toward more senior positions and clarifies qualification definitions
Treating employees in a manner that more correctly reflects their individual efforts and results instead of evaluating them according to their seniority
We have extended the age of retirement to 65
Promoting Active Participation by Women
We have endeavored to provide more opportunities for skilled and motivated people to display their capabilities regardless of gender, and we are working to create an environment that is more conducive to women working.
Giving women career paths in management
Promoting participation and career advancement by women through a revamped human resources system
Recognized by the City of Nagoya in January 2012 as a "Company that Promotes the Participation and Career Advancement of Women."

Received "L-boshi" certification as an outstanding company for promoting women's active participation.